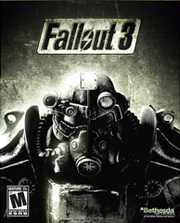 This is a tutorial for how a page should be structured on the My characters story Wiki.
Making a Page
Note: == Word == is to have no spaces to work properly.
Whenever an editor decides to make a page about his/her avatar they must include:
A title that says your username, game, the system it is on, and it's name (eg. AKtrollin's PS3 Fallout: New Vegas Character: The Courier)
A short first paragraph that says its armor, level or rank, name, and who (you) uses him and on what system (not in that order, for an example, go to AKtrollin's Xbox 360 Fallout: New Vegas Character: The Courier).
A second paragraph under == Unique Actions == that details the unique decisions your character made during his/her time in the game (such as choosing to kill or spare someone).
A third and final section under == Unique Characteristics == that bullets all the unique characteristics of the avatar, such as custom upgrades or perks that change the game that he/she has.
Rules
Please be mature in your edits, as in no "ultimate boss" or "total god", please. No matter what you think, you're not the best. Deal with it. :D
Never put fiction of your character onto a page, such as a custom faction.
All edits are to be assumed in good faith unless it is obvious vandalism.