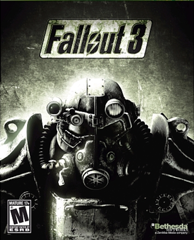 Fallout 3 is a post-apocalyptic computer and console semi-open ended, action role-playing game developed and published by Bethesda Softworks as the third installment in the Fallout series and a sequel to Interplay's Fallout and Fallout 2. It was released on October 28, 2008 in North America, on October 31, 2008 in Europe and on December 4, 2008 in Japan. It is available on the PC, Xbox 360 and PlayStation 3.
The game takes place in post-apocalyptic Washington D.C. and parts of Maryland, Virginia, New Jersey, and Pennsylvania. The player can travel through these dilapidated ruins to known locations such as Andale, The Mall, and the Potomac river.
Storyline
Edit
The player is The Lone Wanderer, a Vault 101 resident exiled due to his father's escape. You are tasked with finding him. Upon finding him you are to help him complete Project Purity in order to give clean water to all of the Capital Wasteland.